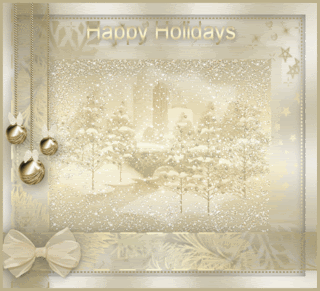 Seasons greetings, Merry Christmas, Happy Hanukkah and a Merry Festivus to the rest of us! I know the holidays are for love, family, religion and gifts but you know for me it's about the food, LOL. For the first time we are celebrating Christmas Eve instead of Christmas morning. I haven't been home for very many Christmases in my adult life and celebrating the holidays was spotty when I was a kid so it doesn't make a difference to me. A few years ago my dad had to work so they all went to his house at 5am to open presents. Well this year he has to work during the day and wanted to move it to Xmas Eve. My family has very few traditions but Xmas morning is one of them. The family was resistant but you know a Xmas Eve dinner would be so much more wonderful then a Xmas morning breakfast so I made the command decision that we're doing the Eve and let everyone know and told them what they were bringing, LOL.
We had to juggle some with the significant others since there suddenly was a conflict with two of them so we're celebrating earlier in the day then planned but this way we can spend more time with each other and Nancy can also join us (she has plans that night). My dad bought a Christmas Story for us to watch, apparently when we watched Tropic Thunder for Thanksgiving it didn't have the right tone LOL. Too bad Kim already bought Stepbrothers for us to watch and I haven't seen that yet.
Adam will be cooking the prime rib.
Kim will put together the salad David paid for.
Andy alcoholic drinks.
Kim bought dessert and sodas.
Kathy is doing a veggie side dish.
I'm making a potatoes au gratin using velveeta and cream of mushroom soup and a sherbert punch!
Now Nancy and I were watching tv in my room because it was warmer the other night and surfing different recipes online. We came across Alton Brown's recipe for Ambrosia on foodnetwork.com and decided that would be fun to make. Especially when we read the glowing reviews. But all of the reviews said it's so much better with homemade marshmallows so guess what we're making tonight? That's right, homemade marshmallows! We're also using all fresh fruit, including fresh coconut and adding red and green jello per Kim's request. For as much as we spent on ingredients it better be the best damn ambrosia ever! We'll let you know how it turns out, LOL.
I hope that you all have a fantastic holiday season with family and friends. I know it's been a tough year for everyone. Remember, it's not about what gifts you receive or even give. It's about the love you share, the memories you make and of course, the food you eat!